Discounts applied at checkout:

10+ books = 10% / 100+ books = 25% / 300+ books = 50%
P&P just £5 per order and FREE for all orders over £14
Discounts applied at checkout:
10+ books = 10% / 100+ books = 25% / 300+ books = 50%
P&P just £5 per order and FREE for all orders over £14
The guide to great parenting in bitesize books
Caring for Kids offer a range of high impact, visually stimulating books for parents and young children.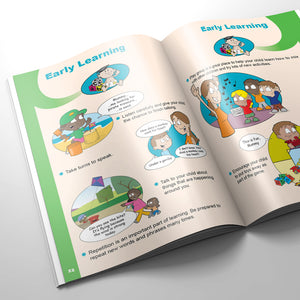 What We Do
Caring for Kids is a company of educationalists and designers that develop high impact resources that educate both parents and children.
Our Partners
We work in partnership with organisations such as Children's Centres, Health Visitors, NHS and childcare providers.
How We Connect
We successfully engage with young people and hard to reach families through the combination of bite sized information with bold imagery.
Are you are buying on behalf of an organisation?
WHAT OUR CUSTOMERS SAY
I have just taken receipt of the wonderful books ordered yesterday and wanted to express thanks for such a professional and speedy service

Claire, Childcare Team
What a joy!

Colourful, easy to understand and covers all issues in a easy and accessible way.

Kelly, Community School
Thank you very much for the wonderful books we received. I was also hugely impressed with the speed and service we received.

Daniel, Project Worker
Package & Posting 2023
P&P is just £5 or FREE for orders over £14.
Orders under 5kg will be sent by Royal Mail First Class post.
Larger orders will be sent by Inxpress shipping services.
We will endeavour to get your purchases to you as quickly as possible. Most orders will be delivered within 3 working days, but please allow up to 2 weeks.
Please contact caroline@caringforkids.co.uk for more information.